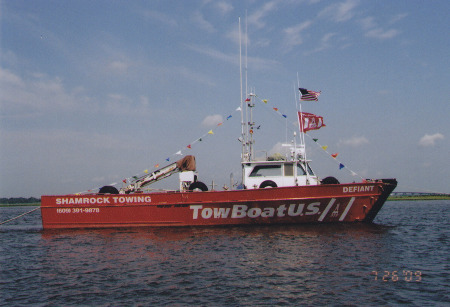 Thank you for visiting our Internet site.

Please check in with us from time to time for new photos and information.

If you are not familiar with our company and your first contact with us is online: We would be pleased to hear from you! Please let us know what your needs and questions are, we will be more than happy to help.

Shamrock Marine Towing was established in 1987 by Captain John F. Ryan. Since then, we have expanded to a fleet of 11 towing vessels in five ports. We provide towing and salvage services for commercial vessels from New York to Norfolk. Crane service and barge rentals also available. Please call for info.


Under the TowBoatU.S. banner, we provide on-water quick response towing for recreational vessels from Atlantic City, New Jersey to Avalon, New Jersey. UNLIMITED TOWING FOR MEMBERS includes towing, ungrounding, fuel drops and jumpstarts up to 100 miles off shore. Towing back to your home port or repair facility of choice. Please call for info or to join today !!